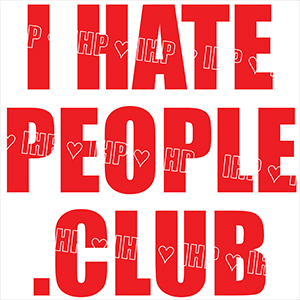 The I Hate People Club is Out in The World around us…
Make us proud…
(but it won't change our minds about you, you're still stupid)…
Show us where you placed your I Hate People stickers…
Where have other dumbasses that bought our shit stuck theirs?
The back of their crappy vehicle, garage walls, basement refrigerators, local telephone poles, neighborhood gas station pumps, on supermarket shopping carts, the sides of newspaper vending machines, on their foreheads (these are some of our most idiotic customers)…
and just about everywhere else you can imagine (that is if you can even use that tiny little brain of yours to think)…
We believe the most moronic thing you can do is NOT
acquire some of our awesome stickers n stuff…
So go ahead, tell your mom/wife/girlfriend/boyfrend/whoever controls your life we said it was ok for you to get some.
Then go out & put them somewhere…
(we don't condone placing them in spots that could get you in trouble… but you probably don't know any better anyways, so whatever…)
Take a pic & send it to us.
I shouldn't have to explain all this, but since you're exactly like the other dopes who troll the internet and don't have any common sense…
There's a little button below, it says "upload" – you click this to upload your pic to this site.
THAT is how you send it to us… (yeah, we know, it's like friggin magic…)
Sometime after we receive it, we will place it on the  Member Photos  page with all the rest.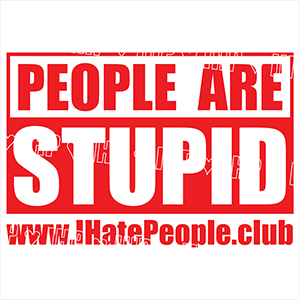 * NO, we are not going to inform you it's been placed on this page…
* NO, we are not going to pay you…
* NO, we are not going to give you credit for taking the photo…
* NO, we are not even going to THANK YOU…
So WHY would you even want to send us your pics?
* Because you're a loser & have nothing better to do…
* And because your dumb enough to do so…
* Plus you really want to see if we will actually place YOUR pic on this page…
* Finally because you truly want bragging rights to say "that's MY pic on that website!" – even though you probably don't have any friends to go bragging that to…
Don't believe all of the above?
GO AHEAD – send us your pics & prove us right!
*************
>>>>      put them in our DROPBOX     <<<<<<
*************
[By SUBMITTING your photo thru the above link you give us your permission to publish it on this website]
(thats legal jargon for you can't sue us for putting your pic on here since your stupid ass sent it to us in the first place. yep, for sure, you're glad we explained all this legal mumbo jumbo to you…)